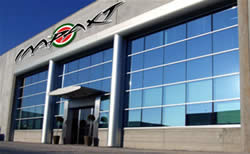 Ours 30 years experience and professionalism in cars's world have allowed us to turn our interest in a project which can guarantee you the best ability and quality; this is the way in which IMPAKT was born. A young and dynamic Italian Company that produces cars body kits and special after market accessories. Always in growing, IMPAKT can offer to customers further services and high quality products. Company's philosophy impose a great attention in products' details and quality.
Company mission is easy and clear: "Improve what is already advanced."

IMPAKT products are known all over the world because of their vanguard design that don't want to follow trends but it have to create them. IMPAKT products are realized considering all aerodynamic features and respecting strict quality controls.
IMPAKT uses high quality materials following better manufacturing processes that include also handicraft job that always mark IMPAKT products.